thus thus thus thus
I'm feeling very fortunate to be a participant in Tino Seghal's piece at the Turbine Hall, Tate Modern, and will try to write more about the experience soon. For now here are two reviews which I found extremely moving.
Do come and see it and engage with it. Don't expect every encounter to be ideal - life's not like that, but enjoy playing with it, watching it etc. Thanks to Bob S for getting me involved. I'm loving it (and am the bloke with a tale of talk in Sheffield (actually the murmur of voices on the bus into town) who is mentioned in the Observer review.


"Within an hour, on the first day, visitors are already joining in. Children run with the pack of performers and snake through Sehgal's milling throng. Soon, I am sure, visitors will be mingling with performers and tell their own stories. We're all participants now. A bystander said: "This is Tino's opera." We're on stage too.
I could barely drag myself away to write this, and I cannot wait to get back. These Associations is a great antidote to the ever more spectacular, large commissions the Unilever Project has produced. It is also a rejoinder to all the brouhaha and corporate fascism and jingoism of the Olympics.
These Associations is one of the best Turbine Hall commissions. There are no objects: we are the subject. It is about communality and intimacy, the self as social being, the group and the individual, belonging and separation. We're in the middle of things. It is marvellous."
- Adrian Searle, The Guardian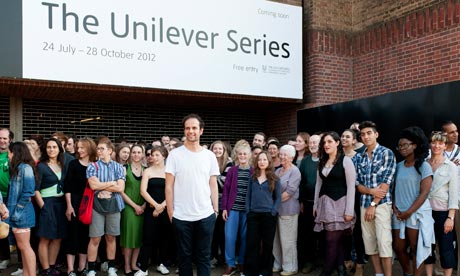 They walk slowly towards us, a rival crowd approaching out of the darkness at the far end of
Tate Modern
. What will happen when we come face to face with all these strangers? Just as the tide of figures is about to surge around us, or perhaps overwhelm us, a young man detaches himself and begins to tell me about the great error of his life, which was to send an email instead of a handwritten letter and how it altered everything. I was so enthralled I fell in step beside him, unable to tear myself away.
But soon he seemed to cede to a girl who told of a party thrown to celebrate her sister's recent recovery – from what? We were immediately deep in conversation about the swiftness of cancer in the young. Next, a wise woman recalled the jar of dolly mixtures that sat on top of the classroom cupboard as a reward for good behaviour when she was a child, and the fear of never receiving a handful. A fourth stranger who had migrated from London to a new life in Sheffield found himself amazed to hear the sound of voices everywhere: people actually talking to one another. His story is emblematic of this whole marvellous project.
These Associations
is the latest iteration of the Unilever Series. Conceived by the Berlin-based
Tino Sehgal
, it is by far the most radical and humane of all the
Turbine Hall
commissions to date. There is no object, as with Louise Bourgeois's
giant spiders
or Carsten Höller's
spiral slides
. There is no installation, as with Miroslav Balka's apocalyptic black void. There is no fixed image or sculpture or outcome.
Sehgal's event – as always with this 36-year-old artist – consists entirely of encounters between living people that are as potent, ever-changing and unique, minute by minute, as they are in the world beyond this museum. Except that they might never happen out there.
For the connections are sudden and immediately open. There is no preamble and the register of the conversation is quite extraordinarily frank. Yet these strangers are full of respect in forging this vital sense of connection. There is no social barter; you feel no pressure to divulge anything in exchange. It is like the best, and least demanding, party.
The crowd walks faster, breaking into a sprint or suddenly slackening and losing formation. It looks at times like a game of tig, or a football match without a ball. There is a sense of starlings mysteriously gathering or shoals of fish somehow darting in the same direction without any obvious leader. Above all, it looks atomic, especially as the participants spin away from the group to talk to the rest of us. It is like a microcosm in reverse:
Brownian motion
enacted by full-size people.
And into this benevolent force field we visitors are drawn, welcomed from all over the world. One man tells of a love affair gone wrong. Another shares his experience of vertigo with a colleague who discovers something vital about his own condition. I had a piercing exchange about fathers with a man I will never see again, so that its contents remain sharp and intense in that isolated moment but have unfolded with new meaning in my memory ever since.
I imagine that Sehgal has asked his volunteers to talk of life-changing moments, of feelings of belonging or its opposite, but each story is altered by the mutual dialogue. Whether you do or don't talk back is up to you; indeed you might reverse the exchange. I still wish I had talked to the woman in red, or had longer with the American in the black and white stripes. They move away – they have to because time passes, after all, and the museum will eventually close. But there is an immense freedom in Sehgal's orchestration, given how hard it might be for some of the volunteers to speak of their lives to total strangers and how wary those strangers may be. They don't approach the reluctant or defensive, as it seemed to me, but I have no idea how it works precisely because these figures manage to appear and disappear out of the blue.
But how could one not be interested? It is almost a test of human solidarity.To call the experience Sehgal has set in motion life-affirming would be no more than platitude. This is a profound work and at the same time riveting; a new form of art somewhere between theatre, performance art, dance and memoir and yet based on an immense gathering of humanity that includes all of us as live participants. Life art, I suppose.
If you are able to visit Tate Modern during These Associations, give them as much time as you possibly can. The cycle lasts for an hour or so, and you could easily stay all day. Attention is what it is all about, this precious thing we scarcely give one another and which is both the substance and the object of Sehgal's work. We often speak of art as life-changing; this event truly has that potential in all its fullness and humanity. One learns about other people, and one learns about oneself. I shall never forget it.
- Laura Cummings, Observer